Hola a todos, En el siguiente cartel se indican los detalles de la nueva conferencia de investigación que tendrá lugar en la Facultad de Farmacia de la Universidad de Granada el próximo lunes 21 de noviembre. Al final de esta entrada se puede consultar un resumen de la conferencia.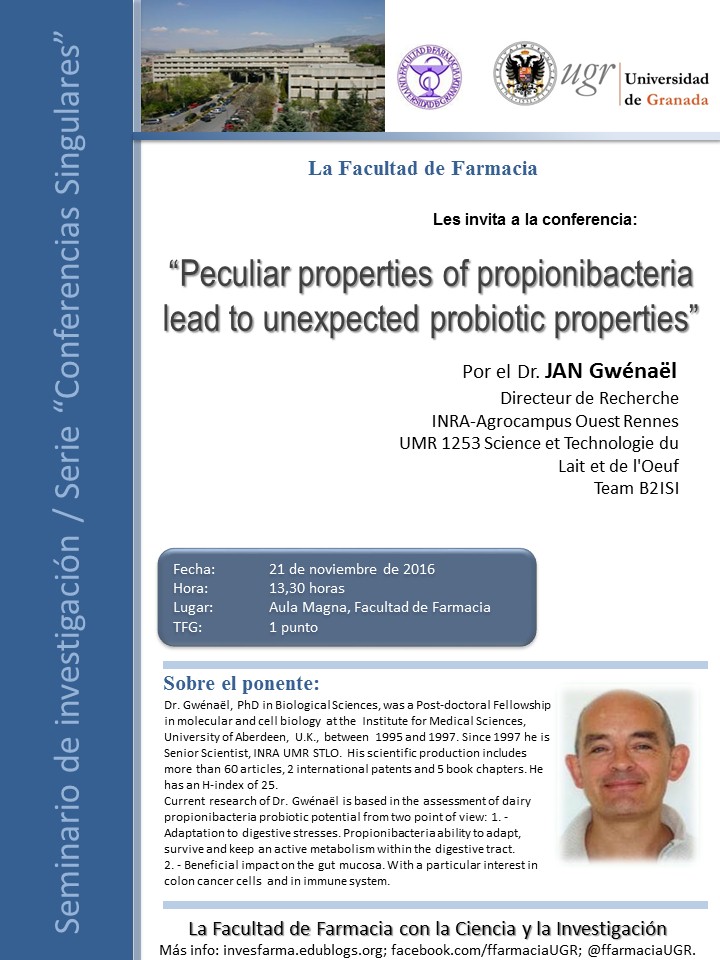 _________________________________________
Summary:
Cheeses and other fermented dairy products constitute a tremendous source of live and active bacteria in our diet. Depending on the product, on the strain and on the health status of individuals, this major bacterial intake can have beneficial effects, or not! Recognized molecular, cellular and animal models have been developed to detect and study probiotic bacterial strains. These tools may also reveal unexpected probiotic potential in bacterial strains within the tremendous biodiversity present in traditional fermented products. In our team, we focused on dairy propionibacteria, taking advantage of a unique biological resource center. Propionibacterium freudenreichii is a beneficial bacterium used in the food industry as a vitamin producer, as a bio-preservative and as a cheese ripening starter. We hypothesized that strains considered for techno-functional reasons (aroma, texture), may also play a beneficial role as probiotics.
________________________________________
No faltéis, os esperamos a todos.